Date/Time
Date(s) - 14/11/2023
18:00 - 21:00
Tickets
https://www.eventbrite.ie/e/what-just-keeps-happening-an-evening-with-marina-hyde-patrick-freyne-tickets-698329210467
Location
Liberty Hall Theatre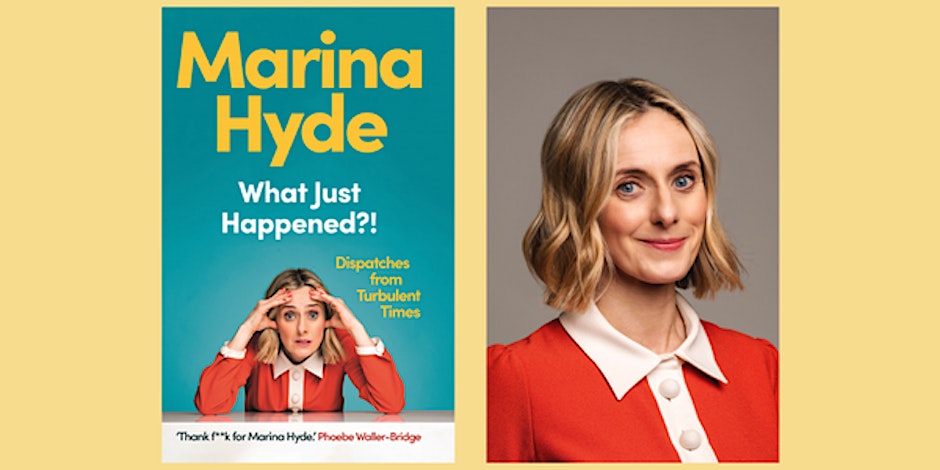 Marina & Patrick had such good fun last year and with no sign of the madness letting up, we thought…why not do it again ?! So, please join us for a very special evening at Liberty Hall Theatre with the most wonderful Marina Hyde and Patrick Freyne to discuss What Just Keeps Happening?!:
What Just Happened?!: Dispatches from Turbulent Times a bestselling collection of Hyde's spectacularly funny Guardian columns – tells the story of the hellscape of the Cameron, May and Johnson eras, Trumpian wtf-ery to celebrity twattery, the Royal soap-opera and the series finale of the United Kingdom. Marina Hyde sees through the looking glass and calls out the utter crap rained down on us from populists, tech billionaires, reality TV monsters, media barons, sporting pundits and Gwyneth Paltrow. Quite simply, no other writer is more suited to chronicle the absurd and chaotic times we live in.
Marina Hyde (@MarinaHyde) has worked at the Guardian since 2000, where her weekly columns have won her a reputation as one of the most admired journalists in the UK. The recipient of multiple awards, including the 2020 Edgar Wallace Award for writing of the highest quality, she has been named Political Commentator of the Year for the past two years by the Society of Editors, and Commentator of the Year at the Press Awards for the past three years running. She is the only woman in 45 years to receive the Sportswriter of the Year award from the Sports Journalists' Association. Follow Marina @MarinaHyde
The event will be hosted by Irish Times writer, essayist & storyist, Patrick Freyne. A fantastic interviewer both in print & in person, we are delighted to have him host the evening. Patrick's debut book "OK, Let's Do Your Stupid Idea" received wide acclaim upon publication with accolades including….
'The most gorgeous and heartbreaking book about humans and why we need each other' Daisy Buchanan
'Patrick Freyne is a comic genius' Marian Keyes
'Clever, lovely and great, great fun' Roddy Doyle
'Wonderful … One of my books of the year' Ryan Tubridy
'Hilariously, painfully, Freynefully brilliant' Joseph O'Connor
Full of humour and tenderness, this book is an absolute JOY' Sinead Gleeson
Follow Patrick on @PatrickFreyne1
What Just Keeps Happening?! – An Evening with Marina Hyde & Patrick Freyne