Date/Time
Date(s) - 25/09/2023
18:00
Tickets
https://www.eventbrite.ie/e/an-evening-with-the-blizzard-football-quarterly-volume-8-tickets-681825958797
Location
Liberty Hall Theatre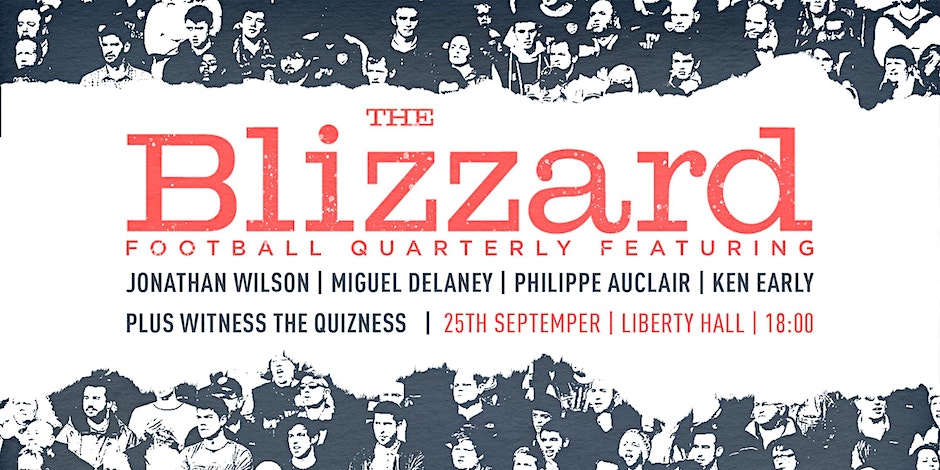 A Q&A Evening with The Blizzard Football Quarterly featuring a panel of:
Jonathan Wilson (The Guardian)
Philippe Auclair (France Football)
Miguel Delaney (The Independent)
and host Ken Early (The Irish Times)
The Blizzard (@blzzrd) is a quarterly football publication – part book, part magazine – providing a platform for top-class writers from across the globe to write about the football stories that matter to them. Join us this evening for a rousing Q&A of two halves with audience participation, visual footage, social media interaction & quiz competitions to discuss the in-depth, topical & humorous football questions of import. Advance tickets now available via Eventbrite and we anticipate a sell-out audience as with previous Blizzard events. Liberty Hall is a fully seated venue, with a fully stocked bar and you can even bring your drinks…TO YOUR SEATS!! It's just like the Bundesliga.
Jonathan Wilson (@jonawils) is founder & editor of The Blizzard. A sports journalist and renowned author who writes for a number of publications, including the Guardian, the Independent, the Daily Telegraph, FourFourTwo & Sports Illustrated. Wilson was football correspondent for the Financial Times from 2002 to 2006 and is a columnist for World Soccer, The Irish Examiner and bettingexpert amongst others whilst also being a regular participant on The Guardian football Podcast, "Football Weekly". He is a Sunderland A.F.C. supporter.
Miguel Delaney (@migueldelaney) is Miguel Delaney is chief football writer of the Independent in London, where he was worked since 2012. Irish-Spanish, he was born in Dublin and has previously worked for the Sunday Tribune and ESPN. He is the author of the book on the Irish team: Stuttgart to Saipan" and features as a guest on the Premier League show on BBC.
Philippe Auclair (@PhilippeAuclair) is a football writer, biographer and broadcaster (and musician when none of the above). Philippe is a regular contributor to The Blizzard and Champions magazine, has held the position of England correspondent for France Football magazine since 1999 and fulfils a similar role for news and sports radio RMC Info. Football writer/broadcaster, England correspondent of France Football, Josimar, RMC and SFR Sport, contributor to The Blizzard and 8×8. Musician when none of the above.
Ken Early (@kenearlys) is a journalist and broadcaster. He is currently a director of Second Captains & regular columnist for the Irish Times, one of his earliest exposures to sport was as a member of the Templeogue Swimming Club.
Witness The Quizness @thequizness
Question: Ireland's best quiz setter and presenter?
Answer: Probably
Warming up proceedings with a cracking quiz, using the projector and fancy-modern-computery-stuff Ronan Leonard will host a live quiz – it will be very tough but fair and fun. There will be prizes which we will make up on the spot (1 phone per entrant needed).
RUNNING ORDER
18.00 Doors Open
18.30 Witness the Quizness
19.00 The Blizzard First Half
19.45 Interval & Orange Quarters
20.00 The Blizzard Second Half
20.45 Full-time (Later if we go to extra-time)
21.00 Aprés Match
An Evening with The Blizzard Football Quarterly – Volume 8