Date/Time
Date(s) - 07/11/2023 - 12/11/2023
00:00
Tickets
https://singularartists.ie/show/dublin-folk-festival-2023/
Location
Liberty Hall Theatre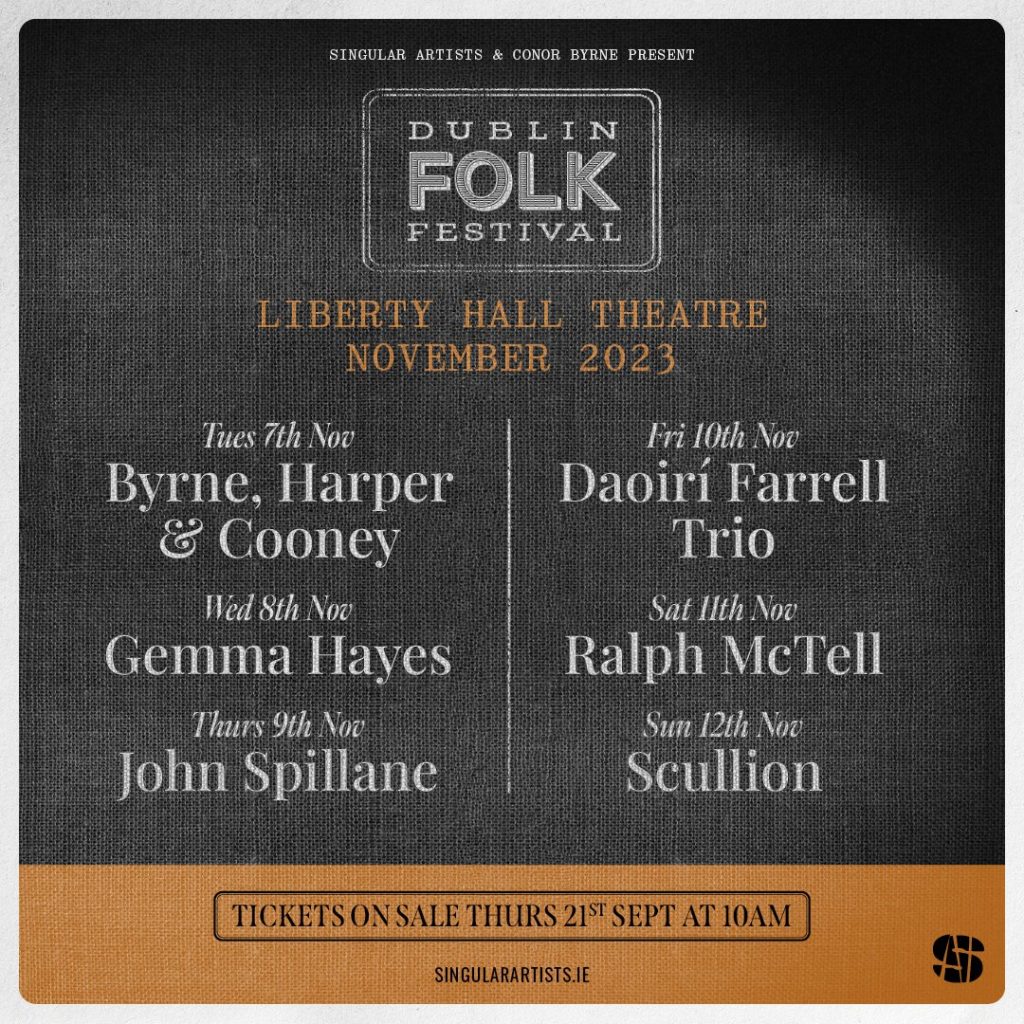 Dublin Folk Festival returns after 45 years with a line-up featuring
Byrne, Harper & Cooney // Gemma Hayes // John Spillane
Daoirí Farrell Trio // Ralph McTell // Scullion
After an absence of over 45 years, Singular Artists and Conor Byrne are proud to announce the welcome return of Dublin Folk Festival, taking place 7th – 12th November 2023 in the iconic surrounds of Dublin's Liberty Hall, in the heart of the city.
Acclaimed acts Byrne, Harper & Cooney, Gemma Hayes, John Spillane, Daoirí Farrell Trio, Ralph McTell and Scullion will headline the festival's six evening shows, with support acts still to be announced.
Festival programmer, Conor Byrne–whose mother Eilish Moore was one of the organisers of the original Dublin Folk Festival in the 1970s–talks about his dream of re-establishing the festival:
"I have fond memories of the Dublin Folk Festival back in the 70s, when I was a child. This was at a time when the folk scene in the city was buzzing in the various clubs and sessions around establishments such as Slattery's of Capel Street and the Meeting Place in Dorset St. You'd hear new, emerging acts of the time like Planxty, Dé Dannan, Clannad and The Bothy Band. With the current revival of the folk scene in the city, there is an array of talent that needs to be heard. To me, it's a no-brainer that we should re-establish this festival and celebrate our music, our musicians and our singers. It's been a longtime personal dream, and I'm delighted that it's now going to be a reality.
Byrne, Harper & Cooney–or to give the trio their full names, Dermot Byrne, Bríd Harper & Steve Cooney–are three of the most respected traditional artists of their generation. Dermot Byrne, formerly of Altan, is a recipient of TG4's prestigious Gradam Ceoil award, which was set up in 1998 with the purpose of recognising musicians who are significant in the creation of Irish Traditional music. Bríd Harper is regarded as one of the leading Irish traditional fiddle players of the last forty years. Steve Cooney is best known for his development of an influential style of guitar accompaniment to traditional Irish dance music which he developed in West Kerry, and for which he won the National Entertainment Award with Séamus Begley in 1997. In 2020 he was given the RTÉ Folk Awards 'Lifetime Achievement' Award.
Gemma Hayes is one of Ireland's most beloved singer-songwriters. After a brief hiatus, the Tipperary native has returned with new music and the promise of a much-anticipated album in 2024. Gemma's debut album, Night On My Side, was released in 2002, for which she won Best Female Artist at the Hot Press Awards and a Mercury Prize nomination. Since then she has released 4 critically acclaimed studio albums and a limited-edition live album. Gemma is constantly in demand for film and television placements – her version of Chris Isaak's Wicked Game, recorded for the US TV series Pretty Little Liars, is now close to 19 million streams on Spotify alone.
John Spillane is a musician, songwriter, performer, recording artist, storyteller, poet and dreamer. Rooted in people, place and story, his music transports the listener and his live performances captivate audiences around the world. A two-time Meteor Award winner for Best Folk/Trad act John is one of the most accomplished songwriters in Ireland. With an extensive back catalogue beginning with the 1997 album The Wells of the World, his songs have been covered by Christy Moore, Sharon Shannon, Sean Keane and many others.
Dublin-born traditional singer and bouzouki player Daoirí (pronounced 'Derry') Farrell has been described by some of the biggest names in Irish folk music as one of most important singers to come out of Ireland in recent years. After a promising debut album, The First Turn, in 2009; Daoirí spent several years studying traditional music and performance across Ireland. While at The University of Limerick Fintan Vallely introduced him to the singing of the late Liam Weldon, an encounter that was to prove formative to his sound and his approach to folk song. Following his studies he quickly found work accompanying artists including Christy Moore, as well as a list of names that sounds like a who's who of folk music: Dónal Lunny, Martin Hayes, Dennis Cahill, Alan Doherty, Danú, Dervish, Julie Fowlis, Arty McGlynn, The John Carty Big Band, Kíla, Sean Keane, Gerry O'Connor (Banjo), Gerry O'Connor (Fiddle), Lynched and more.
Ivor Novello Award recipient, Ralph McTell celebrates 50 years on the road this year, and has made a considerable contribution to the folk song book of English and Irish folk with great songs including 'The Streets of London', and 'It's a long way from Clare to here'.
Formed in the mid-1970s, Scullion are feted as one of Ireland's most innovative, original and brilliant live bands. After years of diverging to follow their own paths, Philip King, Sonny Condell and Robbie Overson returned with a new album in 2022, aptly titled 'Time Has Made a Change in Me'. ​
Philip King of Scullion welcomes the return of the Dublin Folk Festival, saying:
"To have the Dublin Folk Festival back is a gift. At the outset several decades ago it was a precious jewel; it was the original of the species, celebrating the singers, the song carriers and the tune players who put the rhythm under the dancer's foot.
Folk music chronicles the past and heralds the future. It is ever changing, ever reinventing itself, but it is always connected to the well of tradition out of which it comes. The goings-on at The Dublin Folk Festival were programmed and curated with a real love and care for the songs and for music which was the heart and soul of the matter. And so it is today in 2023, we collapse distance and connect with the spirit of the original Dublin Folk Festival."
Tickets for Dublin Folk Festival 2023 are on sale Thursday, 21st September at 10am from singularartists.ie.
Dublin Folk Festival 2023