Date/Time
Date(s) - 06/01/2023
20:00
Tickets
https://www.ticketmaster.ie/venueartist/198720/54233
Location
Liberty Hall Theatre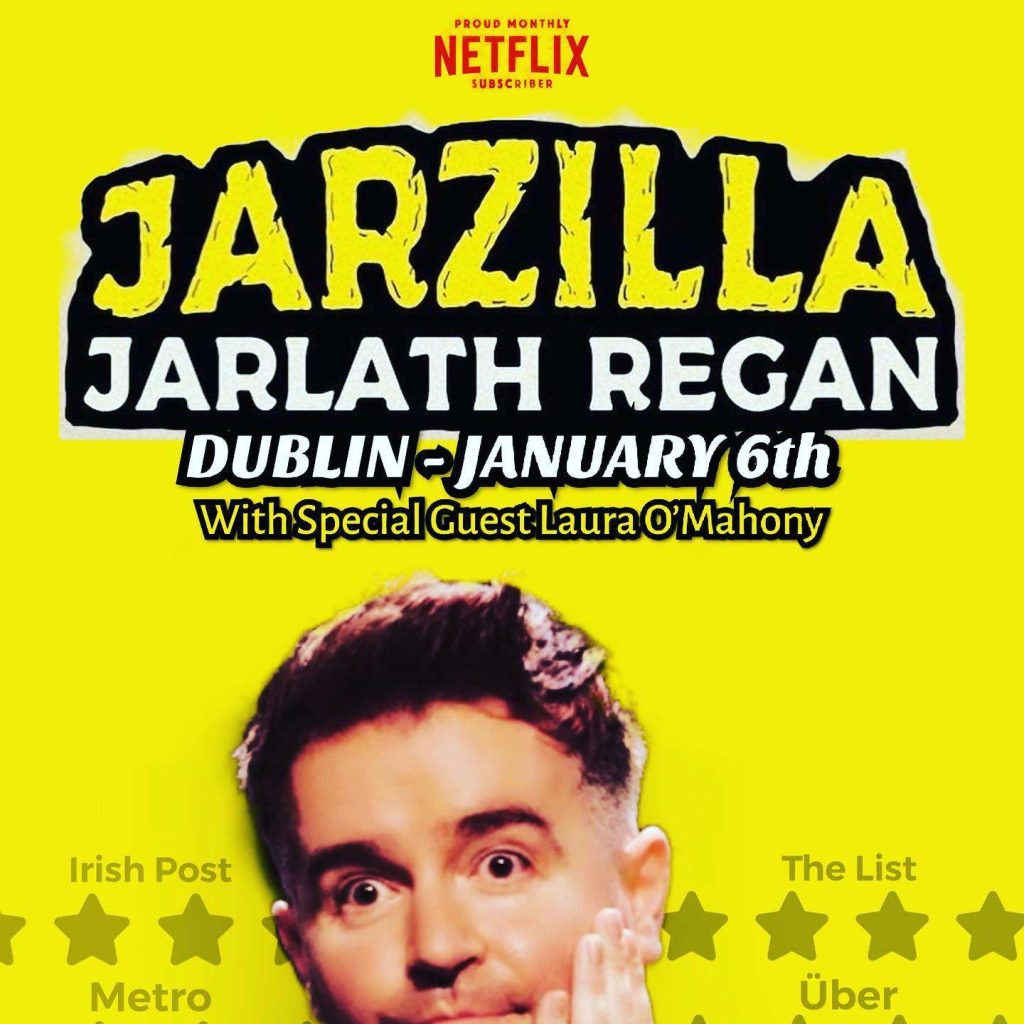 The Original Irish Podfather, Jarlath Regan Is Back With A Brand New Standup Show.
Following millions of views on YouTube & TikTok, 10 years of podcasting greatness with the Irishman Abroad, Jarlath Regan returns to Dublin for his biggest standup show to date, Jarzilla! Due to phenomenal demand, across two nights at Liberty Hall, the man the Irish Times calls a "comedy genius", will film his new standup special and you can be there for this huge comedy night out.
"I filmed my last special the night before the first lockdown so it's fair to say there's quite a bit to talk about!" Jarlath says filming standup specials in Dublin "Might be my favourite thing to do. There's nothing like a Dublin crowd with a sense of their own devilment!" Since his last show in Dublin 2019 Jarlath doubled down on his internet content, creating three new Irishman Abroad Podcast series, an Irishman Abroad Online Comedy Club and releasing his last standup special on RTE and his hugely popular Youtube channel.
Moving Home
In July Jarlath moved his family back to Ireland after ten years in London and freely admits it's been a tough adjustment. "The country is almost unrecognisable from the place I left in 2012. Writing this new show has been so easy and so much fun. Especially when you feel like you've just returned from the moon!"
While in the UK Jarlath won a legion of fans, sold out his runs at the Edinburgh Fringe and appeared on high profile tv shows such as Live At The Palladium, The Apprentice You're Fired, Russell Howard's Good News and Standup Central on Comedy Central. The last year has brought about a big change in how he and other comedians perform and reach their audiences.
"In the past Irish comics were expected to go abroad to find their audience. Now, thanks to YouTube & TikTok, it feels like you can be a successful standup comedian based in Mullingar! Once you have a phone, decent network coverage and the most important thing, good material, you can find your audience." Jarlath definitely found his audience. With millions of downloads and views his content has blown up in the last 12 months. Now it's time to get people out to see his hilarious new standup show in person.
Born in Kildare, Jarlath Regan found standup through the BBC new comedian of the year competition. He went on to write for television and touring comedians before supporting the likes of Marc Maron and Jack Whitehall on tour. In 2017 he made headlines when he donated a kidney to his brother and dedicated himself to promoting organ donor awareness via his award winning standup show Organ Freeman. An original Irish Podfather, Jarlath's Irishman Abroad series was one of the first globally popular Irish podcasts. Today the series has branched out into four weekly episodes including a running podcast co-hosted by Sonia O'Sullivan, an American politics show with Marion McKeone and a parenting podcast with his wife Tina.