Date/Time
Date(s) - 17/06/2022
19:30
Tickets
https://www.gr8events.ie/events/tickets.php?eid=380
Location
Liberty Hall Theatre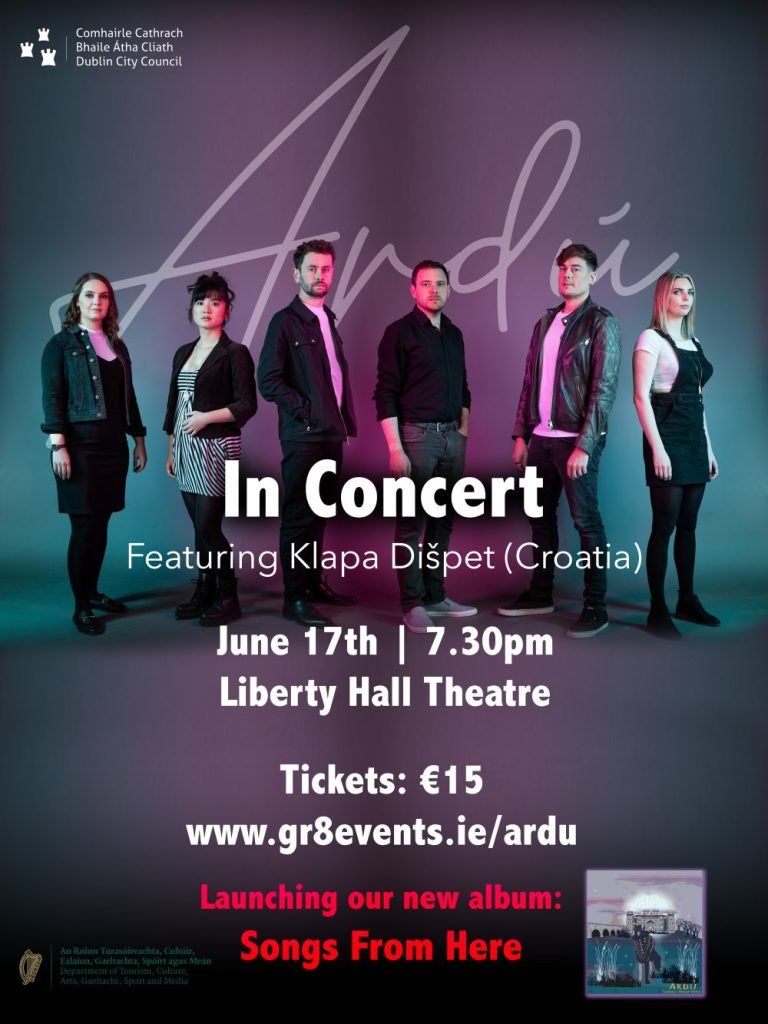 An evening concert celebration of the release of Ardús newest upcoming album "Songs from Here", hosted by none other than Deke Sharon himself!
Ardú will return to the live stage on Friday 17 June 2022 to launch their new album "Songs From Here" at Liberty Hall in Dublin. This fully amplified concert will display the true magic of contemporary a cappella singing with intricate harmonies, funky rhythms and powerful solos from Ardús six singers. The event will be hosted by 'a cappella Godfather' Deke Sharon who is best known for his work on the Pitch Perfect movie franchise. This will be Deke's first public performance in Ireland, as well as Ardús first post-lockdown performance, meaning this concert will leave you feeling good and energised as you let Deke's infectious positivity and the gorgeous musical harmonies wash over you. This night of vocal a cappella goodness is simply not to be missed!
Ardús new album 'Songs From Here' is a collection of songs with origins in Ireland including traditional tunes 'Carrickfergus' and 'The Coolin' as well as covers from some of the best Irish musicians: 'I Wouldn't Be' (Kodaline), 'Days Like This' (Van Morrison) and 'Gaileo' (Declan O'Rourke). The album also features lesser known tracks written by established Irish songwriters Carl Corcoran, Eoin O'Callaghan and Suzanne Savage. This collection was arranged for Ardú throughout 2021 by their artistic director Ciaran Kelly and recorded in late 2021 and early 2022.
Deke Sharon
Deke Sharon is a singer, arranger, composer, director, producer and teacher of a cappella music, and is one of the leaders and promoters of the contemporary a cappella community. Heralded as "The Father of Contemporary A Cappella", he is responsible for the current sound of modern a cappella music, having pioneered the modern vocal-instrumental sound in college, and his infectious positivity and passion for the genre have helped him spread the love for a cappella all around the world. Among his myriad accolades, he notably produced "The Sing-Off" on NBC and worldwide (Netherlands, China, South Africa), addition, and served as arranger, on-site music director and vocal producer for Universal's "Pitch Perfect" 1, 2 & 3, movies starring Anna Kendrick & Rebel Wilson.
Ardú
Ardú is Ireland's premier a cappella vocal band, an award-winning ensemble and pioneer of contemporary vocal music in Ireland. As ambassadors of the a cappella genre in Ireland, in 2017 Ardú founded the Irish International A Cappella Festival, while also regularly performing at high profile Irish festivals such as the City of Derry International Choir Festival (2020), MusicTown Festival (2020), K Fest (2019) and the Cork International Choral Festival (2018). Their busy touring schedule has had Ardú representing Ireland in international festivals in London, Edinburgh, Finland, Croatia, Austria and Italy. The group has featured on TV and radio including the Ray D'Arcy Show, the BBC Proms and Sing: Ultimate A Cappella on Sky One, and has supported American a cappella group Straight No Chaser at the National Concert Hall. Ardú have also won a number of awards, including first prize in the 2018 Choirs for Christmas competition on RTE Lyric FM, the audience award at the 2019 Vokal.Total festival in Austria and were runners up in the 2019 Contemporary A Cappella Recording Awards.
"This event is generously supported by Dublin City Council and the Department of Tourism, Culture, Arts, Sports and Media."
Ardú In Concert – Hosted by Deke Sharon