Date/Time
Date(s) - 16/10/2022
19:30
Tickets
https://www.eventbrite.ie/e/harps-together-la-na-cruite-harp-day-2022-gala-concert-tickets-426073175337
Location
Liberty Hall Theatre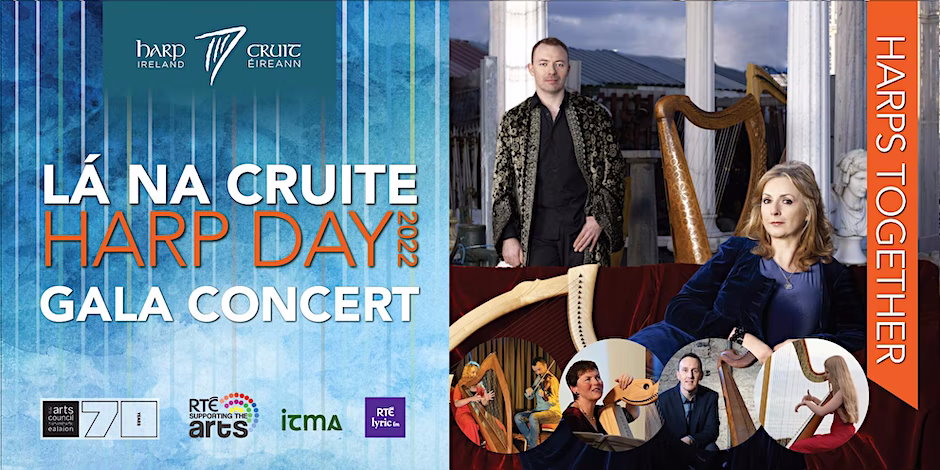 Join Cruit Éireann | Harp Ireland to celebrate Lá na Cruite │ Harp Day 2022 with Moya Brennan and her band, featuring harper Cormac De Barra, Eibhlís Ní Ríordáin on early harp, Derry harper Lauren O'Neill, Eugene McKenna (fiddle), Rosie Murphy (Pedal Harp), and harper composer, Michael Rooney with the Music Generation Harp Collective.
The theme for Lá na Cruite │ Harp Day 2022 is "Harps Together", and harpers all over the world will be striking up their harps in tribute to Ireland's 1,000 harping tradition. To find out more see harpireland.ie.
GALA CONCERT PERFORMERS:
Eibhlís Ní Ríordáin is an Oireachtas and Fleadh Cheoil na hÉireann prize-winning sean-nós singer and historical harpist, working on the 17th- and 18th-century harpers' song repertory. Eibhlís researches and performs this much-neglected, seminal repertory to her own early Irish harp accompaniment, on a replica early Irish harp.
Harper Lauren O'Neill joins forces with fiddle player Eugene McKenna to explore some of the harpers' tunes from the Bunting collection, as we celebrate the 230th anniversary of the 1792 Belfast Harpers' Assembly in 2022.
Be inspired by the sonic beauty of more than 60 young harpers from the Music Generation Harp Collective performing with harper/composer Michael Rooney and their Music Generation tutors; some of our most renowned harpers. Awarded the TG4 Composer of the Year in 2017, Michael is a prolific composer and is widely regarded as one of the foremost players of the traditional Irish harp. Michael will perform his work Cláirseoireacht with the young harpers from Laois, Louth and Mayo.
Pedal harpist Rosie Murphy will perform a programme that includes her own exciting new composition along with Samuel Kane (violin) and Joe Clarkson (French Horn).
Winner of the Lifetime Achievement Award from RTÉ Radio Folk Awards in 2019, harper and singer Moya Brennan is the voice of Clannad and has collaborated with many notable artists including The Chieftains, Paul Brady and Bono. Moya will perform with the renowned harper Cormac De Barra. Longtime collaborators, Moya and Cormac have released three critically acclaimed albums together and will be joined by members of their family ensembles to to bring our Lá na Cruite│Harp Day celebration to a suitably uplifting close.
Harps Together: Lá na Cruite │ Harp Day 2022 Gala Concert