Date/Time
Date(s) - 10/06/2022
19:00
Tickets
https://singularartists.ie/show/jon-ronson-live/
Location
Liberty Hall Theatre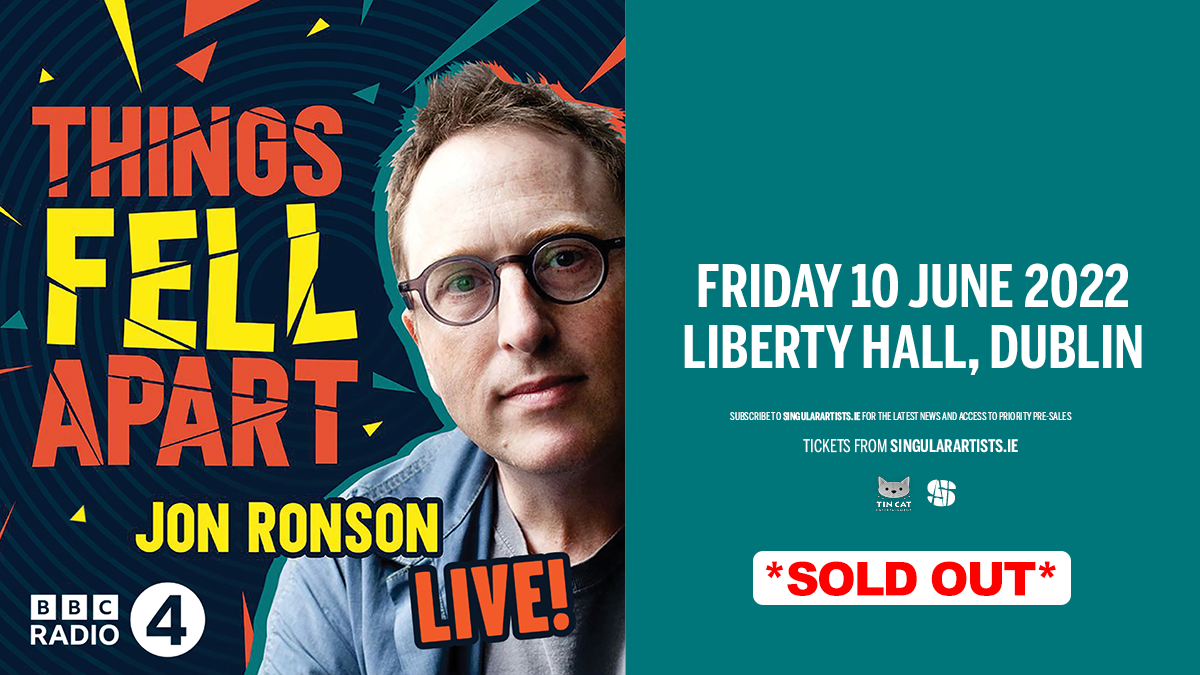 singular artists proudly presents Things Fell Apart, with Jon Ronson LIVE! Jon shares unexpected and spellbinding human tales of the Culture Wars featuring new stories and ones from his hit BBC Radio 4 podcast with special guest and Q&A live at Liberty Hall Theatre, 10 June 2022.
These past few years Jon has watched friends get caught up in the online culture wars to such a degree they've lost everything – their careers, their wellbeing. And by culture wars, Jon means the battle for dominance between conflicting values. Jon wanted to understand how things fell apart, and so he went back in time to find the origin stories, the pebbles thrown in the pond creating the ripples. He had no idea how unexpected, how spellbinding, those tales would be.
*****
PRESS ON THE LIVE SHOW:
"Ronson captivates the audience … The audience oscillates between hysterical laughter and stunned silence." – 5/5 Yorkshire Post
"Few people have such an infectious enthusiasm for the intricacies of the human mind as Ronson, nor such a genuine desire to unpick society's problems." – City A.M.
"Ronson's natural charm and humour, combined with his characteristic soothing cadence and easy style, has the audience enthralled for the entirety of Things Fell Apart: Live…" – Bristol 24/7
PRAISE FOR THE PODCAST:
"UK Podcast of the Year" – British Press Guild (BPG) Audio Awards
"Superb." – The Times
"The number one audio show of 2021." – The Observer
"The episodes start in such obscure places and take such unexpected turns that each one is a revelatory listen." – The Royal Television Society
Things Fell Apart: Jon Ronson Live