Date/Time
Date(s) - 26/09/2023
20:00
Tickets
https://secure.tickets.ie/Listing/EventInformation/45054/tadhg-hickey-the-marxist-terrorist-supporting-scumbag-tour
Location
Liberty Hall Theatre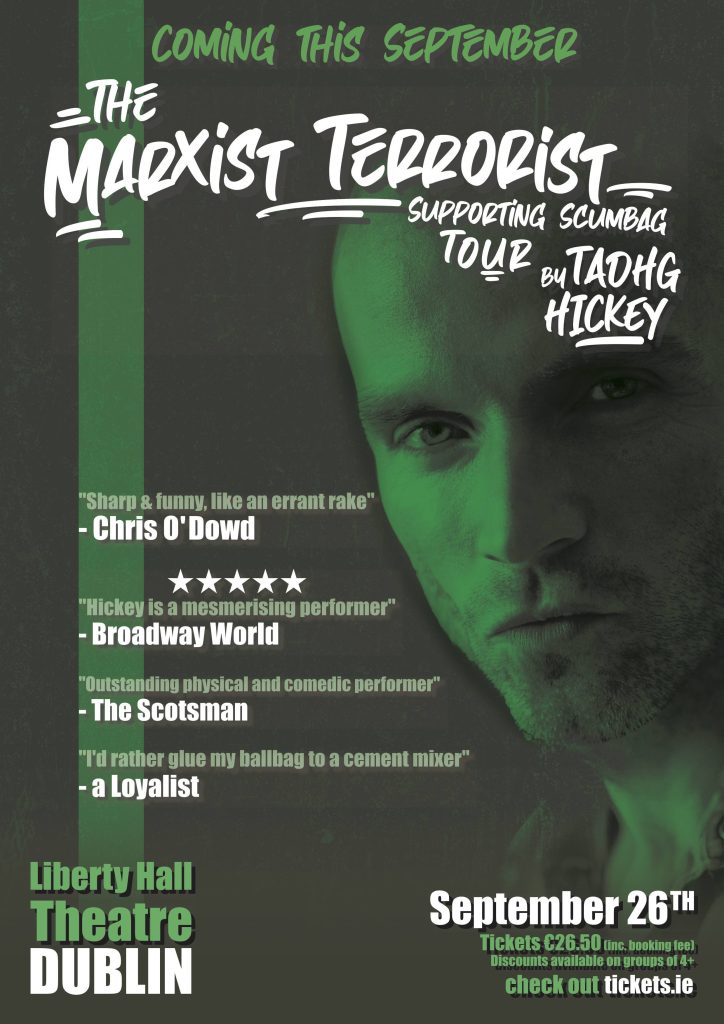 Tadhg Hickey is back on the road, baby; The Marxist Terrorist-Supporting ScumbagTOUR!, this September.
In 2022 Tadhg toured a sold-out run of his critically acclaimed play, 'In One Eye, Out The Other', but he has rarely ventured into stand-up. It was also at a previous run of this very show, Tadhg's now publisher (Bonnier Books, UK) approached the man who was recently described by a Fine Gael supporter on the internet as "an embarrassment to Cork". . . in relation to writing his soon to be published memoir!
For those of us who bask in the gloriousness of Tadhg's style of humour and satire we can look forward to more embarrassing moments this autumn.
This September, come blush with Tadhg at his first ever solo shows on the famous Cork Opera House stagetogether with both Liberty Hall, Dublin and The Ulster Hall, Belfast stages! The tour also takes in Cottiers, Glasgow, National Museum, Cardiff and Leicester Square Theatre, London.

Join Tadhg on his stand-up tour and hear him ráiméis about dysfunctional families, fatherhood, colonialism and of course his raison d'être: trying to break up the United Kingdom through the unusual medium of comedy.

WARNING…for your anticipation pleasure: This show is likely to descend into a sing song! The show features live original music with Tadhg's long-term collaborator, Sully. Expect viral singalong hits including,'Are ye sorry for what ye did?'
On touring, Tadhg says:"Frankly, I was too scared. I'd be up in my head worrying about the audience, doing their thinking for them. I didn't enjoy gigs. The best feeling, I could hope for was relief. But last year I did CBT and it's been absolutely transformative. Now I'm like: Just get up and tell a few jokes bud, 'it's not that deep', as my daughter says". Peace and love, t
Tadhg's political comedy sketches, including 'Brexit; but it's a house share inCork', have amassed millions of views online; the acclaim of his peers, kind words from media in many quartersand similarly so from academics worldwide. For balance, we believe it only right to also share there has been a smattering (to be modest!) of troll commentary also, one such comment ironically provides the inspiration for the title of this September's tour; The Marxist Terrorist-Supporting ScumbagTOUR! Indeed, for total transparency there has been a sprinkling of death threats too!
"Sharp & funny, like an errant rake"– Chris O' Dowd
"Dangerously funny"– James O' Brien (LBC radio)
"Hickey is a mesmerising performer"– Broadway World 5*
"Outstanding physical and comedic performer"– The Scotsman
v If you like your comedy with a liberal amount of intelligence, somewhat left of the central gauge we are all too familiar with, politically corrective, with a sprinkle of irony and if you are ably positioned to laugh at life in all its beautiful and not so beautiful angles; Tadhg Hickey's The Marxist Terrorist-Supporting ScumbagTOUR! could be the show for you.
v Tickets from €26.50 for the ROI shows including booking fee are now on sale. A group rate for 4 or more tickets is also available for the Dublin Show from ticketsDOTie
**For a limited time only, get a 10% discount on group tickets by entering the promo code TADHG10!,when booking
Tadhg Hickey – The Marxist Terrorist-Supporting Scumbag Tour!