Date/Time
Date(s) - 13/09/2023
20:00
Tickets
https://www.ticketmaster.ie/georgie-carroll-dublin-13-09-2023/event/18005EE3D8BB3F44
Location
Liberty Hall Theatre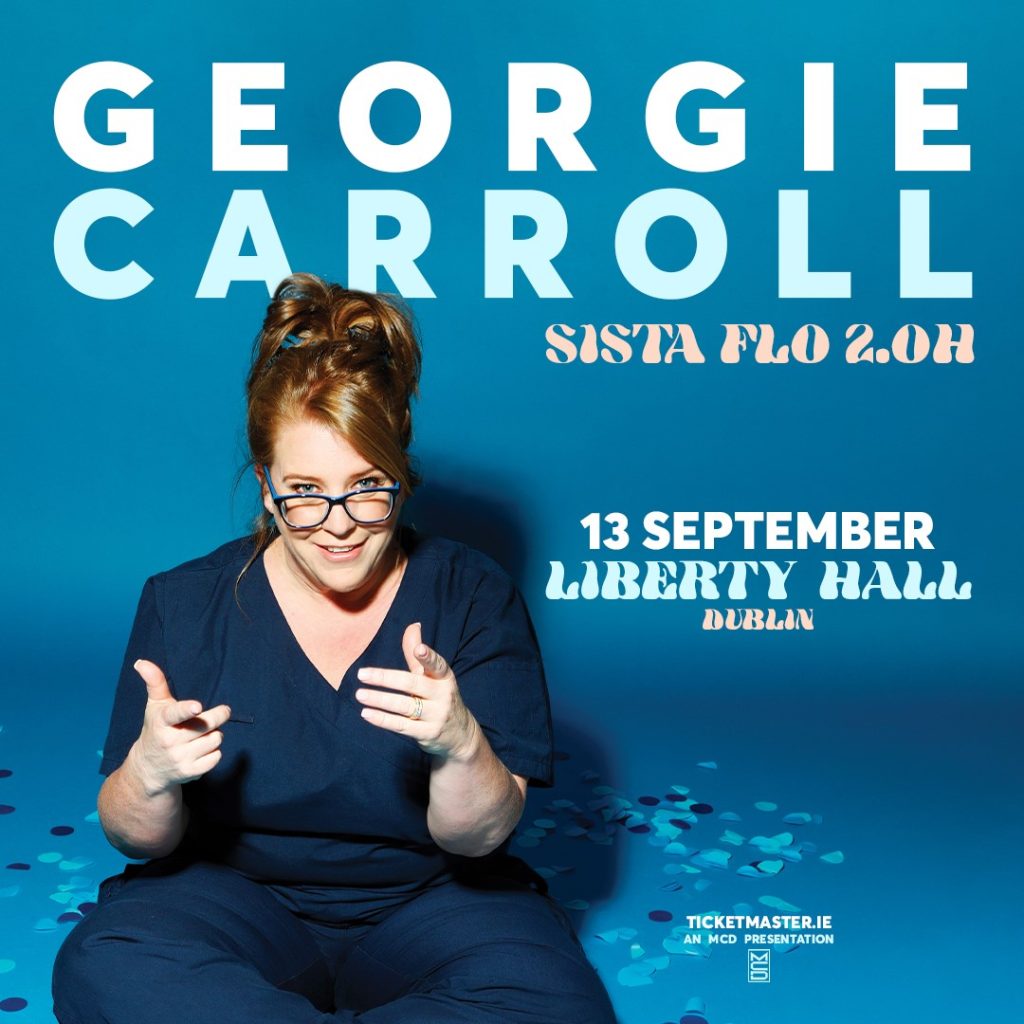 Georgie Carroll brings her new stand-up show Sista Flo 2.Oh to Liberty Hall, Dublin on 13th September 2023.
Tickets go on sale this Friday 7th July at 10:00am from www.ticketmaster.ie
Georgie Carroll is best known as the UK-born, Australia-based nurse turned comedian.
She grafted for twenty years on the healthcare frontline before swapping the pen torch for the spotlight. She has now retired from nursing but has taken with her an unparalleled comedy voice and a staunch online medical following that have made her viral (in the best way!).
Her most viewed clip is 3 stages of nursing. The terms dolphin, penguin, and Orca used in the clip are now ingrained in international nursing vernacular.
Nurse Georgie is an undeniable live comedy powerhouse. ''Sister Flo 2. OH!'' is her latest stand-up show. It has toured over 150 dates in Australia (selling out most performances) and won the Best Comedy Award at the Adelaide Fringe. The show continues to be a remarkable success with an upcoming debut Edinburgh Fringe season and UK tour set for 2023.
A versatile and dynamic performer, Georgie has been unstoppable in live spaces moving swiftly from operating theatres to the London Palladium, Sydney Opera House, and Hammersmith Apollo.
Not shy of the camera, Georgie released her debut comedy special on Australian TV in 2021. She is a regular on Australian television with appearances on: The Project, Would I Lie to You?, Have you Been Paying Attention?, Just for Laughs and the Melbourne Comedy Allstar and Oxfam Galas.
She recently made her UK TV debut reaching the live semi-finals of Britain's Got Talent 2023 where she was adored by audiences and judges alike.
She also has a podcast because who doesn't! The Swab is a hit and is now in its third season with over 125,000 listens and a nomination for Best Comedy Podcast 2022.
''……the podcast didn't set out to be funny, it was just me chatting to everyday nurses, staffroom banter style. Turns out that this format is never not funny.'' Georgie.
Georgie is also an acclaimed and best-selling author. Nurse Georgie wrote the best-selling nursing ''bible'' ''Off the Charts''(Pan Macmillan) which was nominated for the 2023 Russell Prize for humor writing.
Everything Georgie does is a genuine, hilarious, riotous celebration of the big hearted, no bullshit nurses that sooner or later play a part in all our lives.
''Very Funny…….Just Brilliant.'' Simon Cowell, BGT
Georgie Carroll Sista Flo 2.Oh